KASEY'S STUDIO: ONLINE DRUM TRACKS / REMOTE RECORDING
I can record drums or percussion on your next project!  From my home studio in Nashville, I'm able to record professional drum tracks and deliver them to you directly, no matter where in the world you live. Whether it's one song or an entire record, you can produce the drum parts and sounds without ever leaving the comfort of your own home or paying for expensive studio time.

ALL STYLES
Rock
Pop
Country
Americana
R & B / Soul
Contemporary
Folk
Jazz
Percussion, hand drums, and cajon also available along with bass and basic keys parts for an additional fee with your drum tracks.

How does it work? It's super easy... First, fill out the form below and give as much information about the desired vibe of the song as possible. The more specific you are up front will save time and avoid re-cut fees.

Then all l I need is a rough version of your song recorded (to a click preferred) and I'll do the rest. An up front deposit (agreed upon in initial consultation) is usually taken through Paypal to secure the job.

You'll receive a preview of the tracks I've recorded specifically for your song. You can then either approve it, or request  a re-cut. I am able to recut the track (with your desired changes/feedback) one time and deliver the updated track to you. Any further edits or recuts will be charged an additional $25 each.
Turn around time Standard time for one drum track is approximately 72 hours. I am touring throughout the year and book sessions when I am home so keep in mind it may take a week or two for your session's scheduled start date. Contact me by email or with the form below to inquire about specific time frames.
 
Pricing The cost of each song may vary depending on specific project requests, recuts, additional parts, instruments, and percussion. On average, drum tracks for one song will be an investment of $100. 
Additional recuts (after two guaranteed): $25
Addition of percussion (shakers, tambourines, woodblocks, cowbells, bongos, congas, bells, chimes, etc.) : $25
Just percussion on an acoustic demo: $50 (typically cajon and shaker)
*Discounts available when recording 4 or more songs.  It makes sense to schedule multiple songs into one recording day, so if you have multiple tracks, batch them together in the same project to receive a lower price per song!

Payment 
A portion of payment is taken as a deposit up front to secure session. After you approve the preview track, a final invoice will be sent for final payment. Upon receipt of final payment I will send you all of the tracks online. If you wish, I can also mail you a copy on disc for an additional $5.

Payment can be made by PayPal, Venmo, or check.
Submit an online session request
In the studio with Jace Everett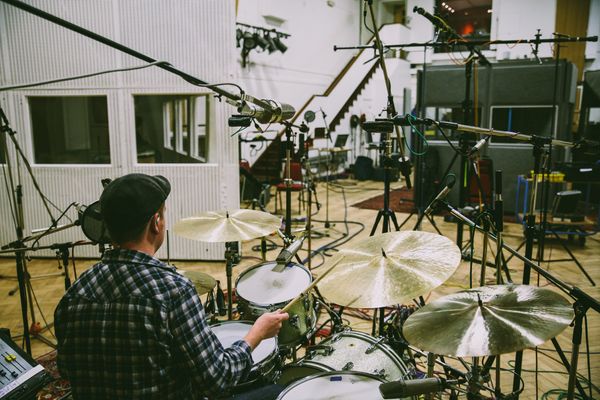 Why work with me? 
When it comes to playing the drums, I've always strived to be a rock solid player with versatility.  More than "just a drummer", I am a musician who takes into consideration each sound I'll get from the set up of my kit, to the way I hit and play in adaptation to each genre/style.

My approach is rooted in my humble yet hard work ethic as a freelance musician. With experience and an ear for producing, I always play for the song - NOT throw as many hits around the kit as possible.

Feel and groove are extremely important in my playing. Steve Jordan is one of my biggest influences and I grew up listening to a lot of funk and Motown soul. 

While my approach to playing may seem simple to some, I have a large range with a lot of discipline, allowing me to be a chameleon in the studio and an asset on stage.