Here is a little intro as to what this blog is about. First off I'm a professional musician based in Nashville, Tn. I love music and especially listening to it on Vinyl. This whole concept started as my friends and I just sitting around at night having some drinks, listening to, and talking about music...more so who played on the albums and the backstory with them (yes we're a bunch of music nerds). So this blog is not really a review. It's inviting you into those conversations, shooting the shit about records, artists, and musicians over whiskey at 3 a.m.  These "Vinyl Grooves" blog posts will be released every two weeks.  They will be a mix of old and new releases, but each are vinyl that I own. I hope you dig it and maybe even learn a thing or two.  So pour yourself a drink and lets get onto the records....
 
---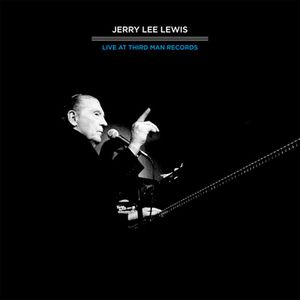 Jerry Lee Lewis - Live At Third Man Records
This album was released in December 2011, but was recorded live at Third Man Records in Nashville, Tn on 4-17-11. It was released under the Third Man Records label and produced by Jack White III. This was recorded on record store day, and was originally only released to those in attendance at the show, and was on a black and blue vinyl. It was then later released on a regular black vinyl to the general public.
I first bought this record because of the musicians who were listed on the back cover. They are as follows:
    Jerry Lee Lewis: Piano & Vocals
    Kenny Lovelace: Guitar
    Steve Cropper: Guitar
    Jack Lawrence: Bass
    Jim Keltner: Drums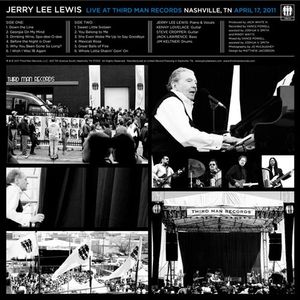 For me, having Steve Cropper or Jim Keltner on a record is worth the buy, and here you get both! Steve Cropper is most known for his work as the guitarist and producer in the Stax Records house band. He co-wrote 'Dock Of The Bay', 'Knock on Wood' and 'In The Midnight Hour'. After Stax, Steve has worked with Ringo Starr, Tower of Power, Rod Stewart, and was in The Blues Brothers Band. Kenny Lovelace is also a legend in his own right, he has been Jerry Lee's guitar player and band leader since 1966. Jack Lawrence on bass, was someone that I was unfamiliar with, but plays great on the record and also plays with The Raconteurs, Greenhornes, Loretta Lynn and The Dead Weather. Last but certainly not least is Jim Keltner on drums. Jim is a drumming icon and has been a top in demand session guy since the late 1960's, playing with the likes of Bob Dylan, Elvis, Ringo Starr, John Lennon and George Harrison. This list could go on and on for days.
Side One:
Down The Line
Georgia On My Mind
Drinking Wine, Spo-dee-o-dee
Before The Night Is Over
Why You Been Gone So Long?
I Wish I Was 18 Again
Side Two:
Sweet Little Sixteen
You Belong To Me
She Even Woke Up To Say Goodbye
Mexicali Rose
Great Balls Of Fire
Whole Lotta Shakin' Goin' On
I think the songs are all a good mix of songs to showcase Jerry Lee's style and variety. I didn't realize that he had quite as much of a country sound and influence until I listened to the album. There are quite a few songs that he plays, that were bigger hits for other artists, but he plays them well and in his style. Both 'Georgia On My Mind' and 'You Belong To Me' have a bit more country flavor than the most popular versions I'm more familiar with, Ray Charles and the Duprees. At age 75 Jerry's voice has aged very well, and he still plays well too, I was pleasantly surprised. The band are all season pro's and just sound fantastic together. It's well worth the listen, and check out the other Third Man releases, there are a lot of cool live vinyls recorded straight to acetate.