Here is a little intro as to what this blog is about. First off I'm a professional musician based in Nashville, Tn. I love music and especially listening to it on Vinyl. This whole concept started as my friends and I just sitting around at night having some drinks, listening to, and talking about music...more so who played on the albums and the backstory with them (yes we're a bunch of music nerds). So this blog is not really a review. It's inviting you into those conversations, shooting the shit about records, artists, and musicians over whiskey at 3 a.m.  These "Vinyl Grooves" blog posts will be released every two weeks.  They will be a mix of old and new releases, but each are vinyl that I own. I hope you dig it and maybe even learn a thing or two.  So pour yourself a drink and lets get onto the records....
---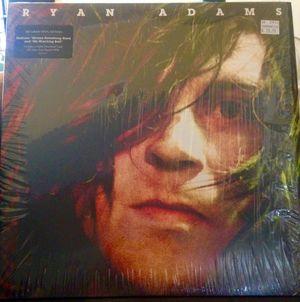 Ryan Adams - Ryan Adams

This album was released on September 8, 2014 on PAXAM Records and is produced by Ryan himself. This is Ryan's fourteenth full length release and was recorded at his home analog studio. 

Musicians listed on the album are as follows… 
    Ryan Adams: All guitars, Vocals 
    Jeremy Stacey: Drums 
    Benmont Tench: Organ and Piano weirdness
    Mike Viola: All sorts of stuff
    Marshall Vore: Drums, Percussion
    Tal Wilkenfeld: Bass
    with Johnny Depp: guitar on 'Kim', guitar and vocals on 'Feels Like Fire'
    Mandy Moore: Vocals on 'Trouble' and 'Am I Safe'. 
Just the line up of musicians on the record is impressive, before even hearing a note. Benmont is a founding member of Tom Petty and the Heartbreakers not to mention the who's who of albums that he's played on as a session player. Mike Viola has his own solo career, but was also the lead vocal on the title track for the movie 'That Thing You Do'. At the young age of 28, Tal has had an amazing career playing with everyone from Jeff Beck, Herbie Hancock, Jackson Browne, and Toto to only name a few! I'm not as familiar with Jeremy Stacey and Marshall Vore, but by looking at their credits, they have also played with quite the number of great artists. 
Side One:
Gimme Something Good
Kim
Trouble
Am I Safe
My Wrecking Ball
Side Two:
Stay With Me
Shadows
Feels Like Fire
I Just Might 
Tired Of Giving Up
Let Go
The Album opens with what I think is a killer intro for an album, between the guitar, organ and sparse drums, it just feels really good and wraps you in. Not to mention that the whole record has an amazing warmth that unfortunately, not a lot of newer records have. I think it's obvious, that recording direct to analog instead of digital has a lot to do with the sound. My three favorites off the record are 'Gimme Something Good', 'My Wrecking Ball' and 'Stay With Me'. It's hard to pick though, because the whole record is great and to me is his best since "Easy Tiger". One last cool thing, this vinyl comes with a digital download(like most new vinyl do, and should come with), but the digital copy is from a vinyl rip. This means that it was was recorded being played from vinyl, you can hear the needle drop at the start of the record, I just thought this was a pretty cool feature. 
 
---