Greetings from Mehamn, Norway! It's about time for my monthly blog, and after this past week I think it is a great time to do so! 

 

A week from today, Tuesday July 21, 2015 I got to record at Abbey Road Studio two. This studio is a musicians dream to record in. Even if you're not a huge Beatles fan, the studio has an impressive history with a long list of epic bands and artists that have recorded there. The studio was built in 1931 and originally named EMI studios. It didn't change names until 1970, after the Beatles record 'Abbey Road'. Personally, I am a huge Beatles fan, and this is where a majority of their catalogue was recorded. 

 

It was quite the day and I'll give a little run down of the craziness that ensued...

 

The night prior we played in Edinburgh, Scotland at a cool rock club called La Belle Angele, and got back to the hotel probably close to Midnight. Our lobby call to catch our flight to London was 4:45AM. Needless to say, it was a very short night. Everything started off fine in the morning, we were all in the cab on time and dropped off at the airport around 5am. This is when the fun begins....

 

First, we get in the queue to print our boarding passes, like normal, but once we reach the front we're told we can't print our boarding passes because we are not checked in. So we find out where to check in and head to that line. We are flying Ryanair for the first time, so we weren't aware of a few of their policies. When we finally check in, we find out that there is a charge (not a small one) per person to check in and print boarding passes, because they want people to do this at home. I guess this is our fault because we are touring for three months and forgot to carry our printer with us... 

 

We eventually get checked in, but then have to go to another line to print the passes. Then another line to figure out baggage. All in all, we stood in one queue over four times, mainly because the people were not very helpful. 

 

We got to the airport at 5am and our flight was 7:10 am, so we should have had plenty of time to check in, get through security, and get to the gate for a domestic flight. After the ticketing debacle we got to security at 6:25 and of course the line for that is huge! With Ryanair, they close the boarding gate 30 minutes prior to the flight, so in our case it closed at 6:40! We did get security to let us move ahead in line and scan our carry ons, but after having everything checked, we still end up running to our flight gate. Luckily there were a few issues (I think they were taping the wing back on) that held them up, or we probably would not have made it... oh and also more fees at the gate! What were supposed to be cheap flights, turned into very expensive flights. 

 

The moral of this first part of the story is NEVER fly Ryanair (especially if it could cost you studio time at Abbey Road)!   :)

 

We landed in London on time and all is finally going well... Until we get in the taxi to take us to our hotel. What should have been a 45 minute ride turned into a 2 hour ride due to UK road construction, but at least I was able to get some shut eye during that time. So when we finally make it to the hotel, it's time to head straight to the studio!

 

I was the first to head over because I was doing a session for an old college professor of mine, Eric Van Wagner. Plus it just takes longer to get drum sounds (that and they're the most important ;-) haha).

So after the hectic morning, I'm finally walking across Abbey Road and up to the studio doors. It felt like a dream. I went down the hall to studio two, and surprisingly, the control room was pretty darn small. There was a ton of gear in it, but much smaller than I had expected. The actual studio space however, was very big (the picture below is from the back wall of the studio floor. You can see the control room in the top left window). It was amazing because it looks just like all of the pictures that I've seen over the years with The Beatles. We were told that the floor in the studio is still the original floor that was put in when it was built. 

 

After descending the steps to the studio floor, I started to get the kit set up. We had a 1963 Ludwig kit brought in for the session. Also, my good friends at Paiste were gracious to send me a few more cymbal options other than what I already had with me on tour.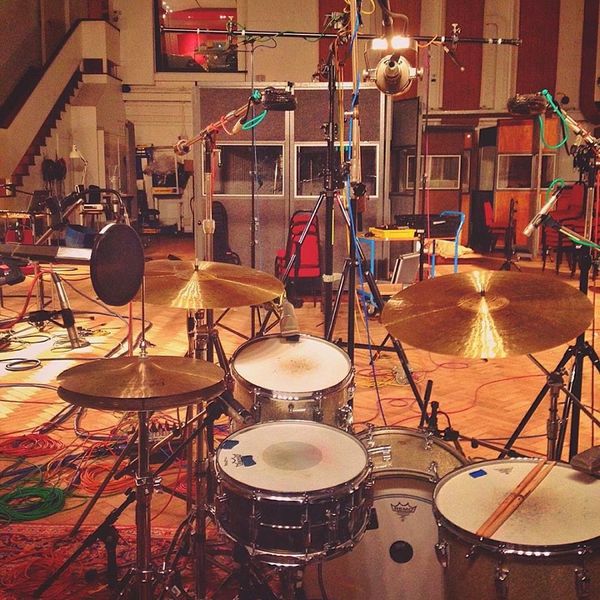 While everything was getting set up, I got a chance to walk around the studio and just take it all in. I played on the Mrs. Mills piano, which can be heard on Ob-La-Di, Ob-La-Da. The piano that was used on Fool On The Hill was also there. Across the hall in studio one, the London Philharmonic was rehearsing for an upcoming film score. I ended up bumping into Giles Martin, George Martin's son. George produced every Beatles record and came up with a lot of the innovative sound ideas. Giles was actually there remastering some new Beatles tracks on surround sound. It was all pretty surreal.
We used A LOT of mics between the two sessions because both were capturing a different sound. It all sounded incredible. I've had quite a few people ask about the flat black mics being used as overheads, and the tom mics. The flat black ones are Coles 4038's. They are a vintage ribbon microphone. The tom mics are Neumann U87's. Huge kudos to our engineer Julian Kindred and the house crew at Abbey Road for really dialing in the sounds. Between the mics, preamps, and echo chamber, the drums had a MASSIVE sound.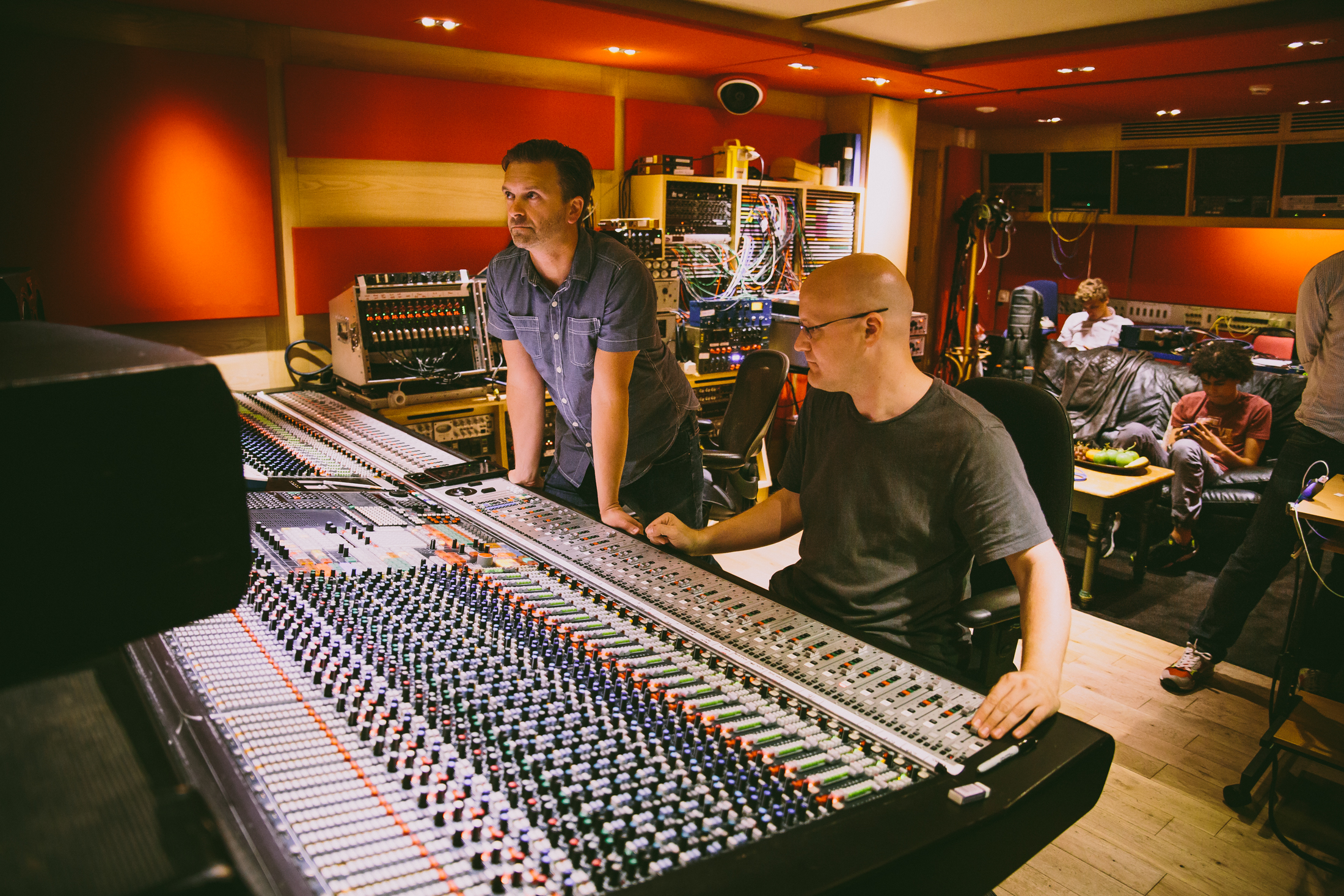 The first session went really fast because all we were recording were the drum tracks. As mentioned earlier, this first session was for my friend/old professor, Eric Van Wagner. He is in the process of writing a text book on recording engineering, called The Evolution of Audio Recording. The idea behind this particular track for the textbook is that each instrument's part will be recorded at different major studios. So the drums will be from Abbey Road, the guitars from RCA Studio B (Nashville), the bass from Fame (Muscle Shoals), percussion from Motown, and vocals from Sun Studios (Memphis). This will then be given to the students with their textbook as learning tools in mixing and engineering.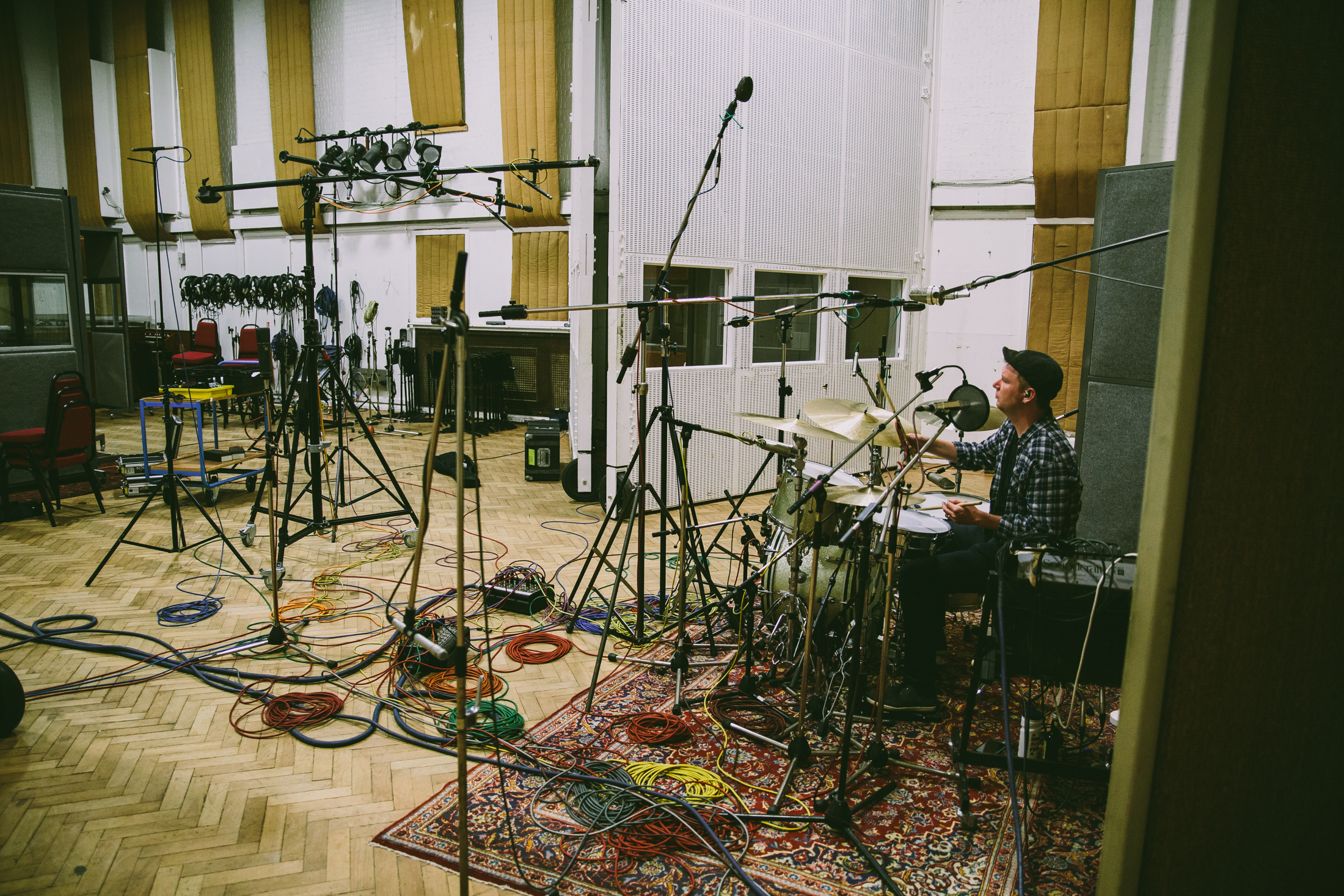 After Eric's session, we did little adjusting to the room to get ready to track the Jace Everett trio tunes with Jace, myself, and Dan Cohen.  There are some moving walls, I guess you'd call them, on both sides of the room. These open up and make triangles within the room that serve as isolation booths. For those that might not know what the need for this is, we use the isolation booths so that we can all record in the same room at the same time, and still have some separation in the audio tracks themselves (less bleeding sound into microphones). On one side of the room we had Dan's guitar amp, the other was Jace's bass amp. A booth was also set up in the middle of the room so Jace could lay down vocals while all of us were tracking (you can see all of these in the picture below).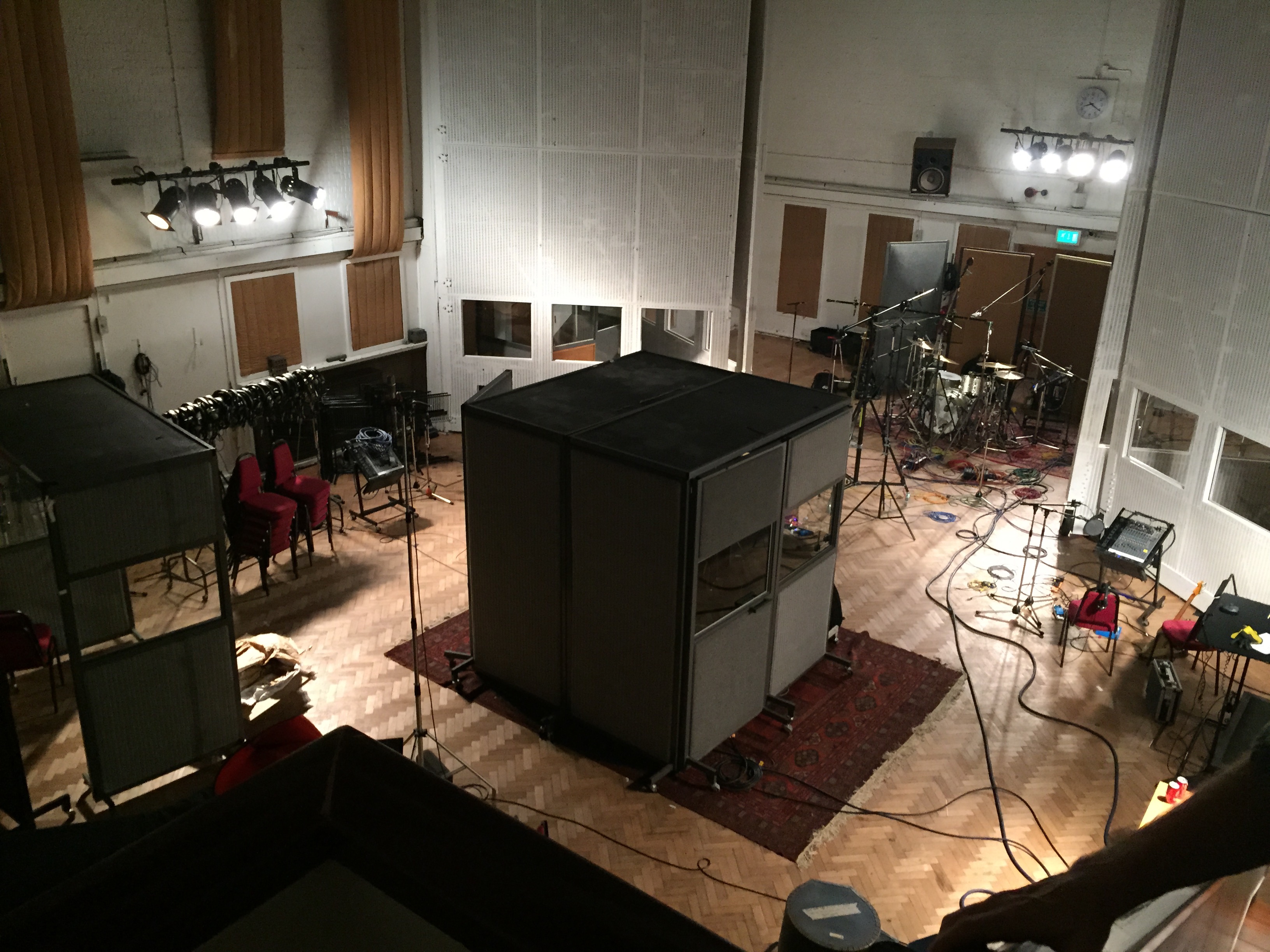 The original idea for this session was to start the new Jace Everett album, but who knows, we may end up just releasing these songs on their own. We started with a new song called 'Dance With Me', this tune has a funky laid back latin feel to it and has gotten some great response when we've been playing it live this summer. The second song we cut was called 'Davina', and is more of a straight ahead rockin' tune. All in all, we finished two songs for the new record, and couldn't be happier with the results. I'm excited for us to finish up the tunes so people can hear them.
In the studio there is also a garden area with a little cafe. So after the session we all went to the cafe and had a few beers to relax and soak in the whole experience...We just finished a session at ABBEY ROAD! It was a dream come true to record there, and a memory that will last forever.